The man's name is Vermin Supreme and every moment in his presence is pure living theater. He has run for President several times, with each election cycle he gains more attention. He promises to implement a system of uniform dental hygiene laws, to revolutionize the world with free energy from zombies, and he extols the virtue of a combined pony based economy and federal identification program (you must have your pony with you at all times.) I got to talk to Vermin Supreme behind the scenes and see him in action in several venues. It feels like an experience worth sharing for the fun of it but also because for me, it forced some pondering on what success in politics really looks like.
An Introduction
Vermin Supreme made himself an Internet sensation in 2012 with this performance at the Democratic Party Primary Debates in New Hampshire. I invite you to watch it, all five minutes of it are a riot.
Not just a perennial wacky satirical Presidential Candidate, Vermin Supreme is a true showman, a professional; and as I have had the pleasure to find out, he is serious about his mission. I first saw the above video in 2012 while watching the race, rooting for Ron Paul to make the biggest splash he could. It cracked me up and so it did to many people. The YouTube video went viral and was even the feature of attention in several large forums.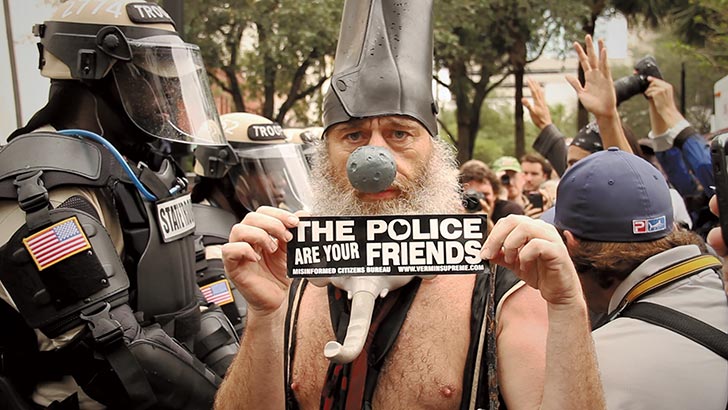 If you are older than 35, you may not have heard much about him, but a lot of college aged kids sure got exposed to his plans for pony poop recycling. That video alone got over three million hits. A search on YouTube brings up a lot of material, all with decent showings. Vermin loves performing and has successfully kept an loyal internet following together between campaigns with interviews, biographies, and a string of political stunts. One video is of him playing with ponies, dancing and singing to his own autobiographical composition: "I'm a Meme".
Dinner with a Meme
It was a set of interviews Vermin Supreme had scheduled in Los Angeles that gave me the opportunity to meet him in person. An activist here had contacted him, and arranged for him to be the host of a dinner fundraiser for the local Libertarian Party. In return, the activist (a young freedom fighter named Boomer Shannon) shuttled him around to his interviews, appearances, and street theater demonstrations for the week he was in town.
A Nice Restaurant on the Beach
The fund raiser, which I quickly bought a ticket to, was a small private dinner at a swanky place on the beach in Santa Monica. Chez Jay's is a landmark, festooned on it's outside with bright colors, cartoony underwater murals, flashing lights, and a giant concrete clam shell once part of a set that graced Santa Monica Boardwalk's entrance. Looking inside it is crowded with two rows of tables between booths and the bar. All of the patrons all have designer shirts, many with ties; the ladies are bejeweled.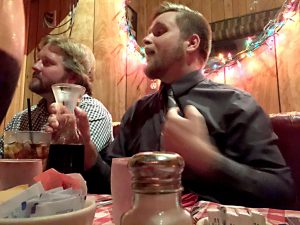 The setting is hard to describe. Chez Jay's was one of the West Side's swanky "dive bars", an exclusive place where Los Angeles elite would dine and drink on the beach and party through the night. A wooden ship's wheel stands in the entry. forcing people coming and going to squeeze between it and the crowded tables and booths. It seems to be giving the bartender and staff time to monitor guests coming and going. Over the bar hangs a decent sized tuna, the first fish that Gen. George S. Patton ever caught.
Our event was in the back, in a small room that once allowed celebrities to party it up in privacy long after last call. Rumor has it that Marilyn Monroe and the Kennedys would use that room to meet when the boys were in town. The hall to the restroom has an impressive array of photos showing Hollywood stars, politicians, and other celebrities partying it up.
The decor is the same as when it was first built. The seat covers are a little worn, but the city will not allow them to be replaced as they had once held some historically notable behinds in their cushions. The red leather benches run down each side of the wood paneled room we ate in, a long set of tables runs down the center. In this compartment eight excited guests, half of whom where under 30, and Vermin Supreme drank wine, dined on steaks, shrimp and enjoyed an appetizer made by the chef especially for the event: Cajun grilled octopus steak with shrimp on an etouffee to die for.
A Clown With a Boot on his Head
Vermin, in character the whole time, extolled the virtues of harnessing zombies for power, made serious demands about the promotion of oral health and sold us on the necessity for the country to adopt a pony based economy. In short, he proclaimed that this country can only be led by a friendly fascist prepared to grab problems by the gum line and floss them clean.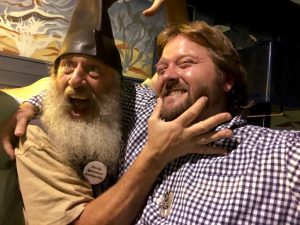 You have to imagine what the setting is like to understand the surreal nature of this dinner fundraiser in a restaurant within one of the most expensive parts of Los Angeles, literally on Silicon Beach. From standing in the park that surrounds the restaurant to the back, you can throw a stone and hit the any of thirty public tech companies, game design labs and the several of the world's most elite sound production studios. The customers of the place have money, the food is not cheap, and in the back is a raucous party going on.  Hosted by a guy wearing eight ties under his long white Santa beard, a leather vest, sport jacket and a rubber boot on his head, a room full of people rolling in laughter, there is a party going that has clearly gone out of bounds. He entertains them and the entire establishment with a showman's voice that echos from the doorway of the back room, over the crowd, and into the street – sardonic zany irreverence in every word.
You would think the management would be ready to toss these loud, imposing jokers out on the street. The staff was all smiles though. The big room out front picked up its own volume, laughter and giggles filled the establishment for the show going on. The tinkling of glasses and cheers demonstrating that happiness is contagious, and the Los Angeles elite love a good show as much as the next guy. Vermin Supreme was a hit, and the maître d came in with a bottle of a lovely Cabernet compliments of the house. "That was nothing you should have seen the outrageousness that Steve McQueen would conjure up," he would tell us later. Indeed, on the restaurant's web site there is a picture of Steve McQueen passing a joint to the owner, taken back in a time when that bit of marijuana was worth 6 years in a California Penitentiary.
Never out of Character
Vermin Supreme did not break character once all night. After dinner, a break for the smokers, and then desert, we lingered together in the parking lot.  The energy did not dissipate. Vermin kept up the show, entertained the valet, signed autographs for new fans, diners leaving the restaurant posed for pictures with him as we did.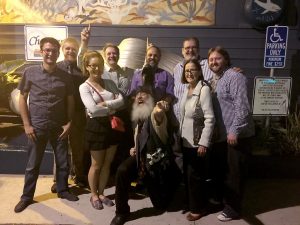 Everybody had a great time and Vermin Supreme helped the Libertarian Party of Los Angeles raise a bunch of money for their part of a co-hosted activist conference in January. Even with tickets at a couple hundred bucks a piece, the fund-raiser sold out in just two days. Limited seating meant people missed out if they didn't answer their phone and had to call back. I was really impressed with the experience, the food, the organization, and especially the entertainment. I wanted to find out more about Vermin Supreme and arranged some time with him at a private party two nights later and got a few minutes to talk. I learned a lot from him that evening, mostly delivered through his quickness of wit.
Even in personal circumstances, with no cameras or microphones around Vermin Supreme rarely drops his character. Talking to him is a conversation of sound bites but through it, I got to see the fascinating person behind the fascinating personality.
The Meme is a Man
I learned some interesting things about his campaign. Vermin Supreme has been doing this shtick for 24 years. His first run was in 1992. He was a clown candidate (really… He has formal training) and did not get a lot of attention at first, but persistence has paid off for him. From the spark of internet memedom, he has been doing interviews and franchising his universe. He has worked with comic book artist Digger Mesch who is publishing a series with Vermin as it's base. He is even writing a novel set in the Dystopian future that exists after his election. Vermin read from the novel for a group of young freedom fighters at the party. I also got to learn a little about the man behind the beard himself.
An Anarchist of the Far Left Sort
"I am a socialist," Vermin said with a voice that was not his normal showman's delivery. His face had gone serious. He had also indicated that he was a "very libertarian person" with the same tone of firmness. After a pause to let it set in he said, "I believe in mutual aid." Then he was right back into character. A little while longer, one of the young people present asked him if he might run as a Libertarian. He indicated that he was not opposed to the idea. He intended to run under several parties already. He said that if he did run as a Libertarian, unlike Harry Browne, he would likely take matching funds and to promote his campaign to the fullest.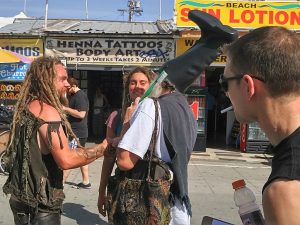 Vermin Supreme is one of those far left anarchist types. The Rainbow Family outing attendee is perfectly happy living in New Hampshire among other independent minded people. He loves his privacy, and his individualism, but he also loves people. He is not wealthy by any stretch of the word except in friends. He believes in and loves community, but only the voluntary sort, and only the free sort where participation or non-participation is up to the individual and one where goodwill drives public interaction. People like him for his earnestness, they trust him and that translates into real political effect.
Like the Pied Piper of Hamlen Town, Vermin rallied and led the kids at the game night party on one of his missions the next morning. Up early blinking a short night's sleep out of their eyes, nearly a dozen young activists met up early, downed a couple of pots of coffee and caravan-ed out to the beach a few miles north of where Vermin's fund raiser was two nights before.
Freedom in the Sun
Venice Beach is at the north end of swanky Santa Monica, just south of the $25,000/month mansions that run along PCH and the exclusive beach cliffs that run up to Malibu. It is a piece of Los Angeles history, a place that was once run by a street gang known as V13. It was where the muscle builders hung out and as Santa Monica gentrified it remained wild, untamed and relatively impoverished for the surrounding area. It was a neighborhood of artists and musicians, junkies and surf bums.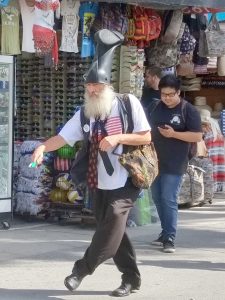 During the weekend, the boardwalk in Venice has been and still is a carnival. Some things have changed there compared to when I hung out as a kid. The character of the place has not changed much per se. The same people are there doing the same stuff, artists on blankets selling their stuff, street performers juggling flaming bowling balls, drum circles chorusing complicated rhythms, dancers shaking, splitting and synchronizing to various styles of music. I once made a couple hundred dollars a day getting petitions signed on the boardwalk; which is how, personally I got turned on to the Philosophy. I was recruited to registering to vote as a Libertarian over 25 years ago by a guy with horned rimmed glasses and a Nolan Chart whom congratulated me on my 100/100 score with a voter registration form and a pen.
One thing has changed. You used to buy weed in Venice in a back alley. Now you walk into a store front. The Green Doctors was one of the first medical marijuana doctor's offices in the state to blatantly hang out a shingle after proposition 215 in 1995 changed the law in California. Not at all typical of the practice in the state where most prescriptive recommendations are in traditional doctor's offices. The Green Doctors is typical Venice, bright paint, bold psychedelic sign, and nurses in short uniforms. You can't buy the weed there, but on the other side of the boardwalk from them is muscle beach and waiting along the chain link boundary of the weights area, there is a couple of people who happen to know where the closest dispensary is. The boardwalk, as it always has been, is packed with people gawking and shopping.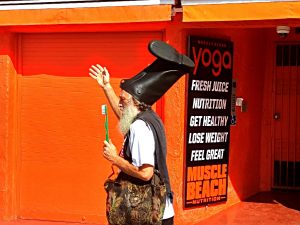 Here Vermin is among his kind of people. The denizens of Venice and tourists alike eat him up. His clowning gathers crowds. He makes people look and listen with his uncompromising professional delivery and powerful engagement. He entertains and he resonates. Everyone that hears him walks away laughing and thinking. The world is his stage and he commands it with his performance.
Since the Dinner, a few weeks ago, Vermin Supreme has officially entered the race for President in 2016. I am looking forward to see what he does but it does raise a question for me. One that is looming larger in importance the more I consider it.
The World Needs More Showmen (and Less Suits)
For me, politics is about people. The philosophy is not politics. Anarchism and Libertarianism are social ethical constructs. But, the effort to inculcate those mores in society is all about politics. It is not merely about elections or government. Politics is about connecting with people and getting them to consider society in new ways, to motivate them to join in a change. Elections demonstrate some aspect of present social trajectory. Politics is the effort to change that trajectory by engaging your fellow man.
On the front of engagement, the Libertarian Party was once a fun group to be a part of. They were the party party. It was among the freaks and geeks of Venice Beach that I was hooked as a college kid. My environmental club's sponsor exploited us for signature gathering and thanks to him and his side business, I became dedicated to Freedom. Registering to vote put me on a mailing list and I liked the radical stuff I read from the LP as a young man. I had known the truth of liberty all my life, but here were people putting it down in plain language and actually engaging the system, throwing themselves on the gears of the machinery in a sense. From there I read Ayn Rand and Robert Anton Wilson and I loved every word of it as i graduated to Lysander Spooner and Larkin Rose.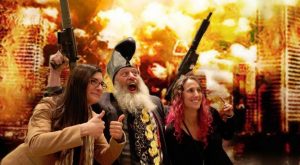 The old LP was full of Vermin Supremes, back when we had 10 times our numbers. That is a significant thing to understand. The people who really make other people look and get socially involved, they are a mixed bag of nuts. Not all of them run for President. Some do, but many are artists and engineers – people who live creating new things – free thinkers. Societies producers, the ones that Ayn Rand illustrated in her novels were not suit wearing normal people. They were self defining people who rejected imposed ideals from all institutions.
Today the party, in an effort to look more mainstream on one hand, and in an effort to maintain "purity" on the other has gutted its soul. I try to imagine what it might be like for someone like Vermin Supreme to be a part of the Party today and it is not pretty. LP conventions are run by people who learned politics from the GOP, there is not a lot of fun going on on the floor.
The Libertarian Party used to be a place where the wild people went. Our conventions were booming and costumes, laughter and pot smoking in the hall was common place despite the hazard of far stricter laws. The artists and communicators used to flock to the party bringing their wide audiences with them, but the Party is devoid of their boon now. Once the people of Venice Beach, the Burning Man throngs, the agorists, the voluntaryists and the anarcho-whichevers all called themselves Libertarians and the party was larger by an order of magnitude.  Where are they now?