California Volunteers for Johnson Weld 2016 have quite a story to tell. Join me in talking to two of the hardest working Libertarian Party's field organizers in the country as they share with us the secrets of running a superior field effort.
The Party Party Gets to Work
This year will be forever remembered in Libertarian Party history. The Gary Johnson and Bill Weld presidential campaign broke records in turnout and media attention affording the LP massive wins that will have certain lasting positive effect on our efforts for many elections to come. The electoral wins themselves are monumental to our party and to our movement. Garnering nearly 4.5 million votes representing well over 3% of the popular votes nationwide the party's previous records were surpassed to 400% of our previous performances. The numbers are impressive but the real wins happened in the states.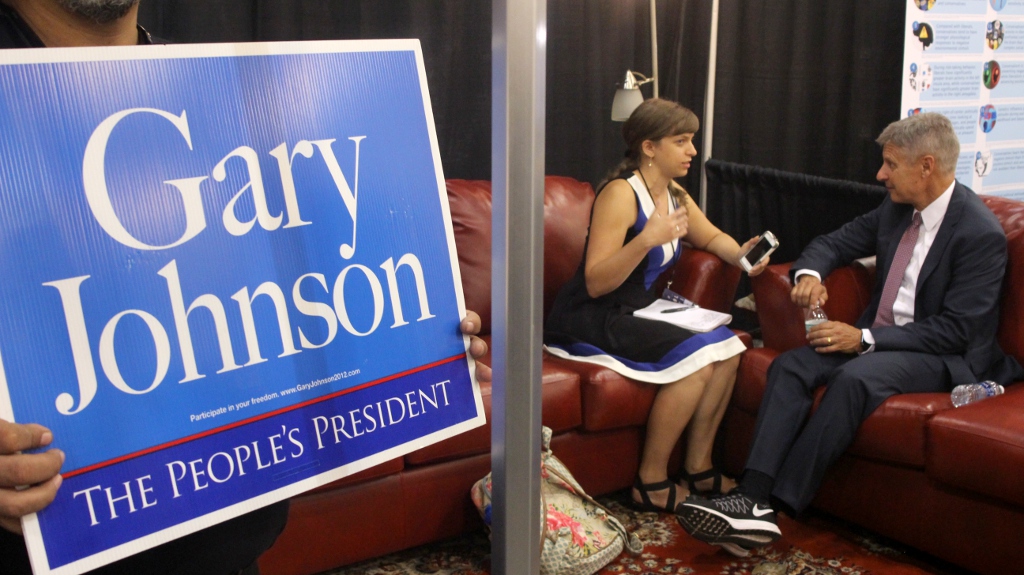 By best accounts, ballot access was won in 17 states where previously our party had to work extra hard just to get our candidates listed. Collecting expensive signatures and fighting Republicans and Democrats in court every election represented millions of dollars in resources we once had to exhaust just to be on the ballot. Metaphorically it was like having to pay a stiff entrance fee just to join a race in which the other contenders get to run in it for free; and then also have to fight with the race organizers over whether the fee was paid in full or not, when they know perfectly well that it was.
Thanks to the success of the Gary Johnson campaign, the LP will be able to redirect its precious resources each presidential election to much more productive uses than playing "mother may I" games with our adversaries. California and it's LP membership played critical roles in that national success. Their well organized field efforts provided a large part of the campaign's outreach bandwidth where it counted most. The organizers in California activated a record number of volunteers getting them connected to the campaign and to the Libertarian Party locally.
Activism is Core
"Activism is the core of all political success. Every campaign is made or broken by their ability to move people." Boomer Shannon identified this as the maxim by which California volunteers operated a very active and driven field effort for the campaign. Boomer is a member of the California Libertarian Party Executive Committee, an activist, and an experienced campaign manager and field organizer that has been working on and for Libertarian efforts for a number of years. He played several roles in the volunteer effort including California's State Director Johnson/Weld and then trading places with Jonathan Jaech, he devoted his time to running logistics and volunteer coordination out the California Libertarian Party's office in Monrovia.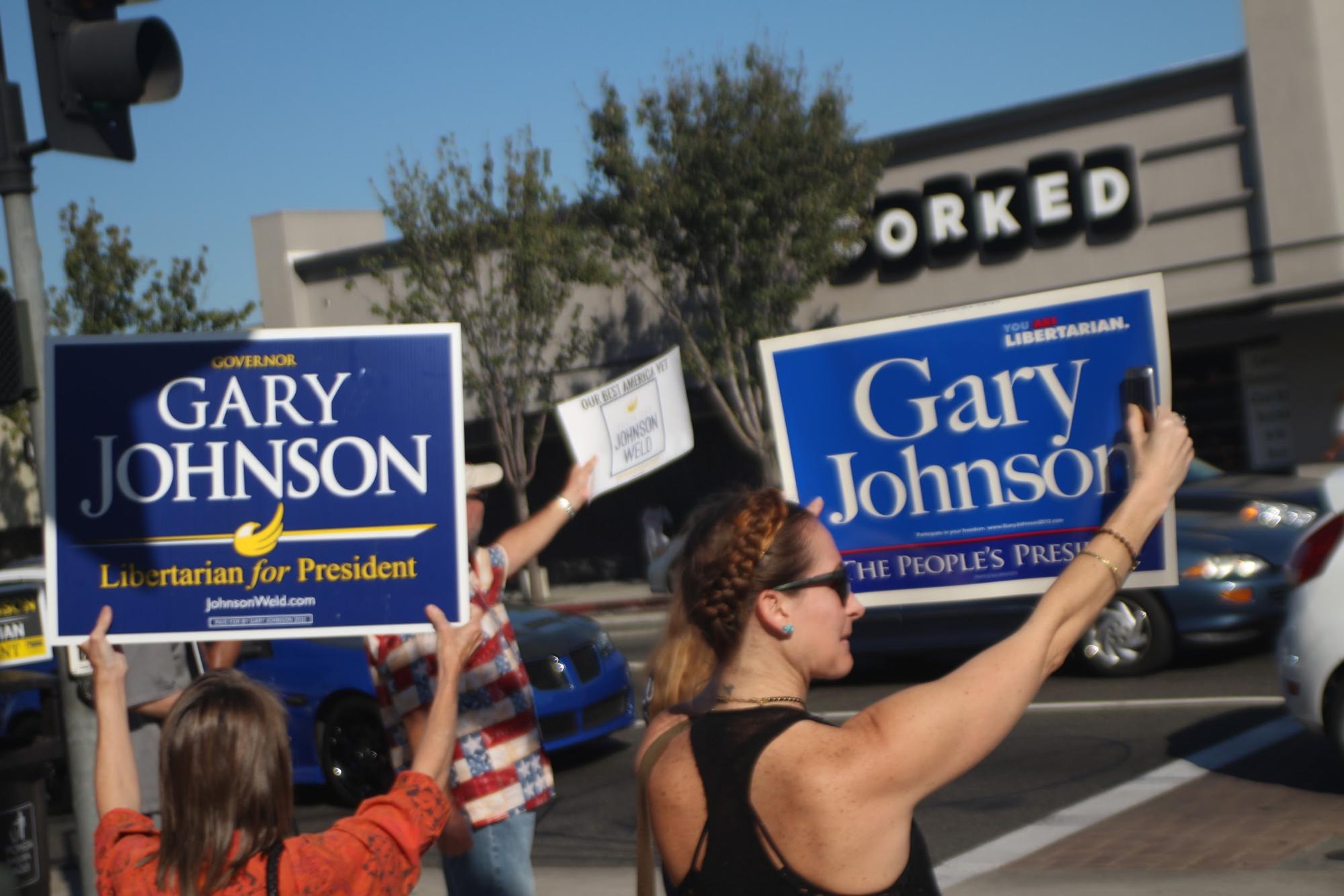 "Our job was to reach out to California supporters and volunteers and get them invested and that is where I wound up spending most of my time. One of the first things we were asked to do was get training in Nation Builder which turned out to be an incredible tool for organizing. It was almost too good. Very early on it became obvious just how big of a task we had in front of us. The platform was perfect for organic outreach. It was plugged into a powerful social media and gave us tools for running a very successful phone banking operation. We started with about a million supporters in the system nation-wide which by the end of the campaign was well over 10 million people who had opted into the campaign as supporters or volunteers."
"We had a team in Los Angeles already set up. We opened the Southern California Libertarian Party Office down here last year to support our activism efforts. We have a group of activists that is pretty sizable. We have been helping with the state web site and doing outreach out of that office. It was very natural when that whole lot of regulars decided as individuals to help out on promoting our presidential candidate. With that core, we began by reaching out to our many volunteers. We set up a phone banking operation and immediately leveraged local LP meetings."
Viral First Contact
"The first thing I did was get on the phone with other activists around California identifying leaders and getting them empowered to activate and to organize. I mined Nation Builder looking for people who had been especially active and filtering against their professions looking for people who were likely leaders. One of the best assets of the entire campaign was recommended to me by Joe Dehn the chair of Santa Clara County's affiliate, a fellow out of San Jose named Robert Imhoff. What a great guy, I knew he was going to be a winner the very first time I talked to him."
Boomer with his crew of activists ran what they called an "organic" field effort explaining that one of the failures of the entrenched but failing Democratic and Republican Parties is their "command and control" structure. Boomer explained that he felt that Libertarians don't have an entrenched culture of control by nature, but that we do have a lot of young people recently activated who have only known a world with a free internet and they are disenchanted by the other parties and their top-down way of viewing the world.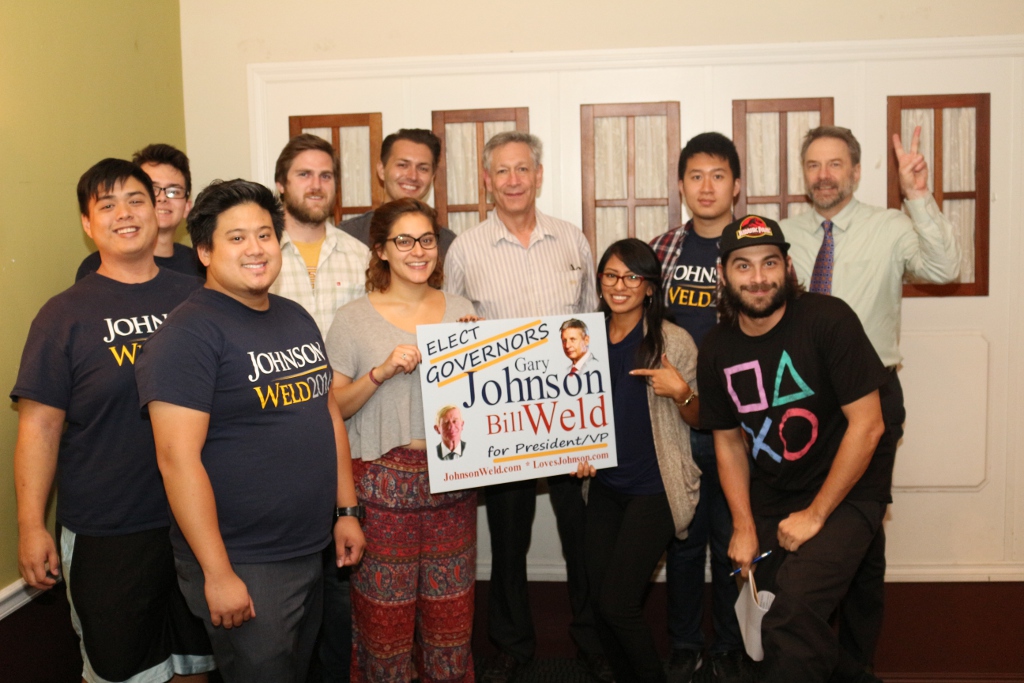 "We are an insurgent party and we have not been successful when we have tried to emulate the organizational habits of the Republicans or Democrats. As established entities, their focus is on survival and maintenance. They are so far removed from growth, both of them, that they are shrinking and seem oblivious to how to correct their dysfunctional relationship with the voting public. We, on the other hand, are focused almost exclusively on growth."
"You don't grow something big by pruning it to perfection. That is how you do bonsai. Looking to control our activists, candidates and voters is pretty un-libertarian on the face of it. It is impossible to do without force or fraud. The opposite of control is empowerment! That is what we concentrated on doing with our volunteers. We didn't try to trim and prune the perfect garden, we went for the Johnny Appleseed approach. I mean we only had a couple of months till the drop dead deadline of the election. Every second that went by meant either gaining or losing momentum depending on how you spent it."
Empowerment > Control
The volunteers in Southern California made phone calls using Nation Builder with lists of people that had signed up explicitly to volunteer. Boomer reached out statewide recruiting leaders in the northern and southern parts of the state. His core team began calling locals from the several thousand volunteers they had in Nation Builder living in the Los Angeles Metropolitan area. The process was the same, identify leaders and if they were willing, give them the task to call a list. If they came back with results, they put them to work. If not, the list was recycled to another. Across California, Boomer set up volunteers that were encouraged to run their own shows.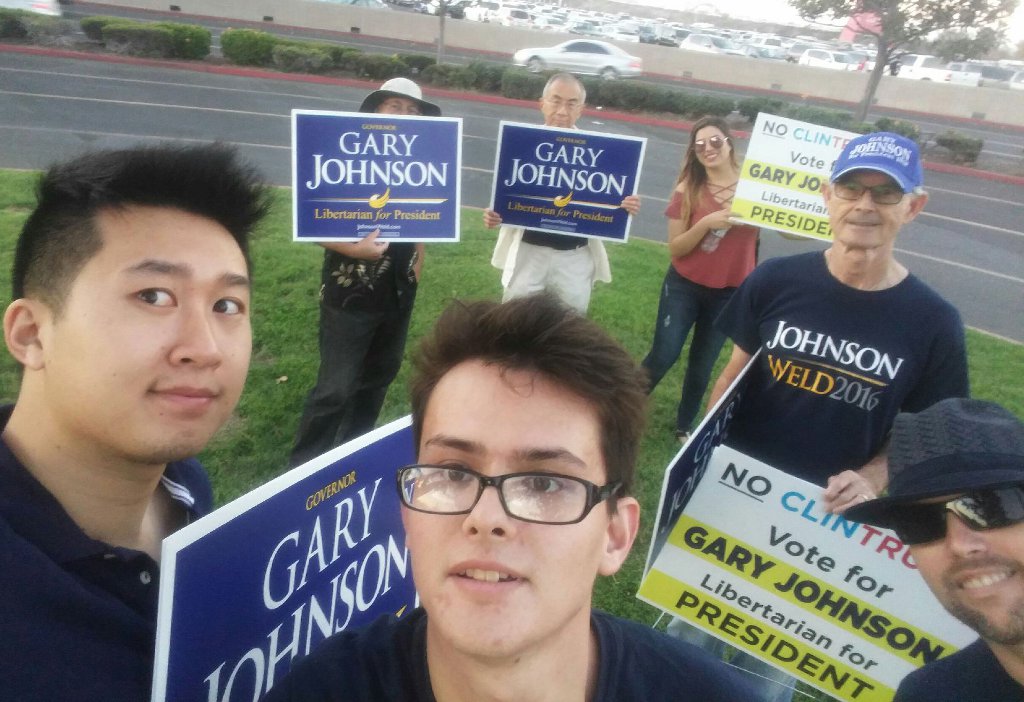 "The idea is never to tell these guys what to do. Once we knew that they were capable and willing, we set them loose organizing their areas with what ever level of guidance seemed welcome. Robert Imhoff was one of the most successful of those if you ask me; showing great willingness and skill from the moment he first picked up the phone. It was not very long before we realized we had found our Northern California coordinator in Robert. He was incredible – hooking himself in with other coordinators easily and calling volunteers to activate and organize them. Instead of having to try and coordinate a bunch of local leaders from hundreds of miles away, Robert made the job much much easier. He and his wife Jennifer really work hard, and they are the sort of people that succeed at anything they do."
The northern part of the state used emails to get people out as volunteers to mixers. Robert Imhoff and his wife Jennifer crafted a series of emails that invited people out. "We carefully thought about what we said in those emails" said Robert Imhoff when asked about how he approached volunteer recruitment. "We kept the language strong but leaving the reader wanting to know more. We invited them to an orientation but didn't give them an agenda. On one hand we wanted to get people motivationally curious, and on the other hand we didn't want to mention phone banking and fail to also get the people out who just wanted signs or had something in mind we didn't think of. We told them we would do training on the campaigns tools and have materials to give out."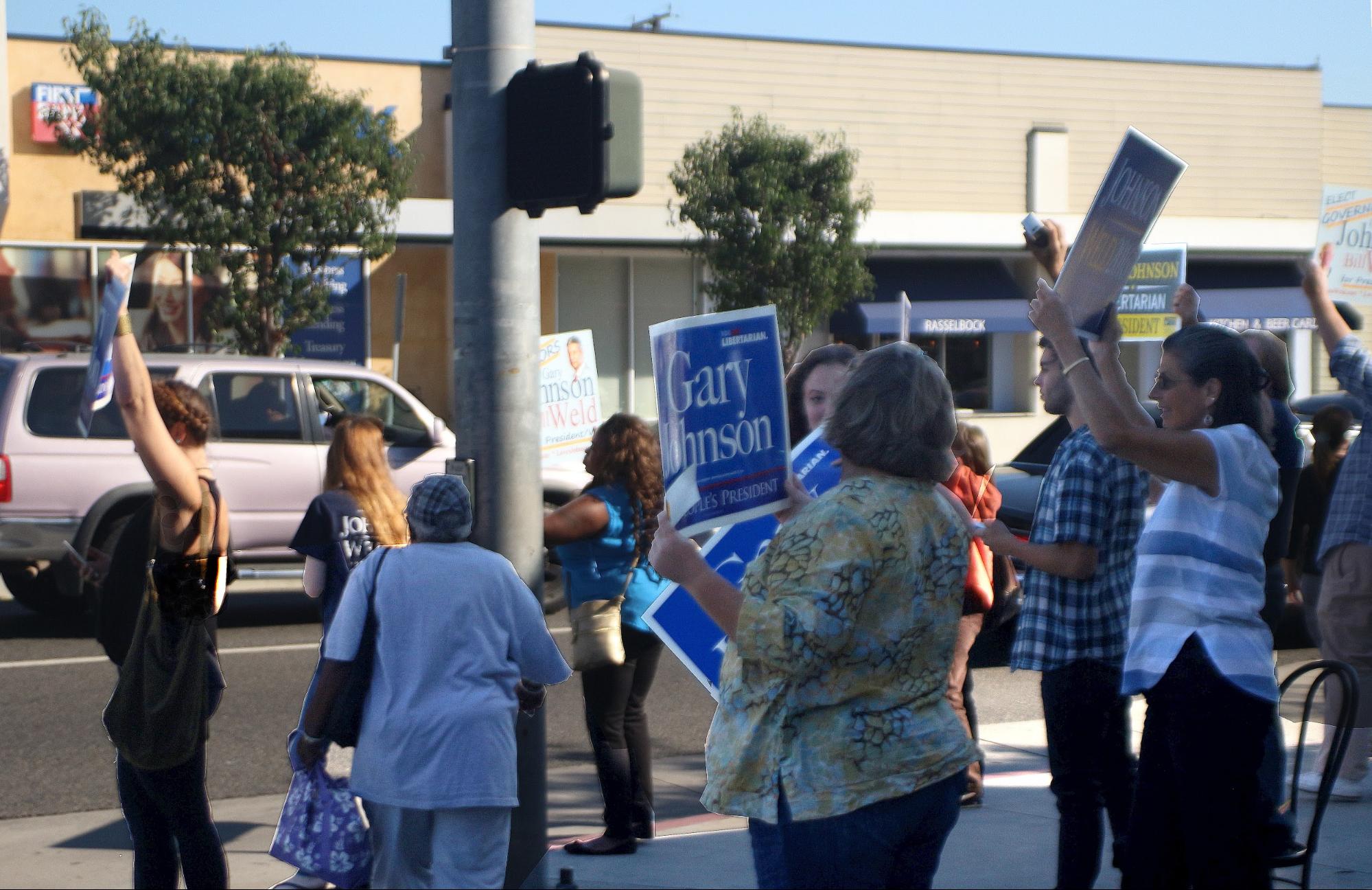 "When people showed up at one of our events we listened to them talk about themselves and what they wanted to do and accomplish. We gave people small tasks according to their interests. Our motto was 'everyone has a role.' This guy we gave five signs to, another we asked them to make some phone calls. We had a great guy who worked in Bay area but lived in Sacramento. Trony Fuller became a huge resource as he was willing to drop off signs and other materials to people along his path home, sometimes even going well out of his way. He was indispensable in Sacramento helping grow the already sizable organization and office Ken Gillespie had generated there."
Connect Personally
In the South, phone banking for volunteer recruitment had paid off in big ways. Volunteer orientations were scheduled at local LP meetings. Regular volunteers in the LP office called hundreds of people from each area, and invited them to several local LP meetings so that they could be oriented on the campaign's efforts in their area. The personal touch gave big rewards. Phone calls to people that came from a fellow volunteer had a remarkably high rate of success.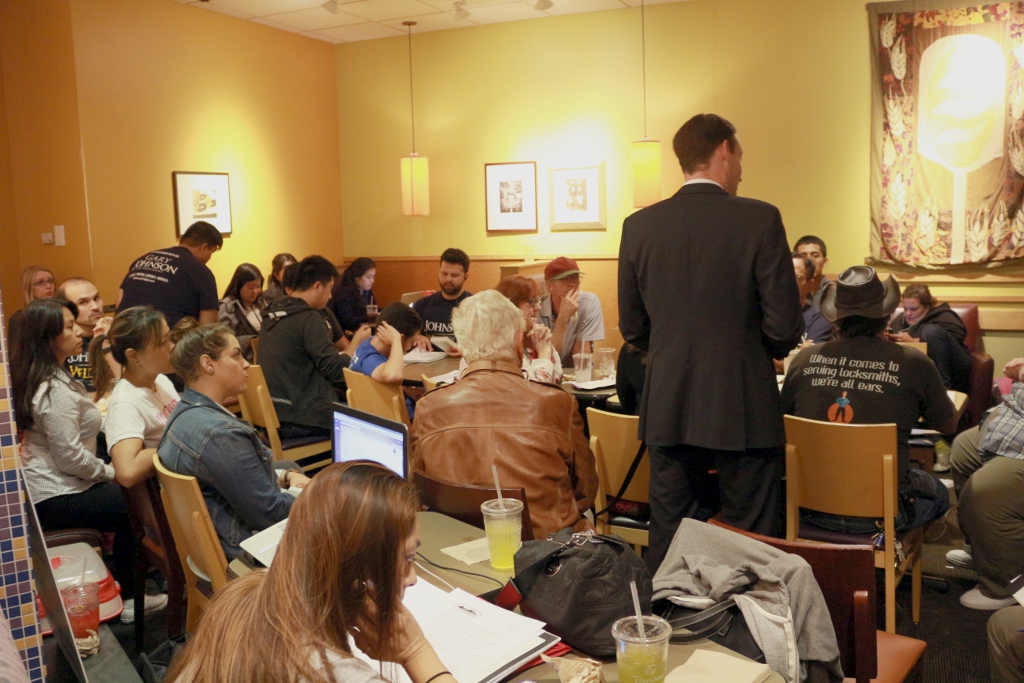 There were a number of orientations in Los Angeles, Orange County and San Diego each of which was preceded by a few hundred phone calls to volunteers in the area. In Pasadena, the rush of new people at their meetings in September and October overfilled the room at the local Panera Bread they regularly meet in. In Central LA people filled the meetings in those months as well,overflowing the banquet room at a small hotel on more than one occasion.
Similarly successful events also happened in several Los Angeles neighborhoods and neighboring San Bernardino, Orange and Ventura Counties including several orientations on Los Angeles' progressive-dominated West Side. In Venice Beach, on the boardwalk, Mark Herd an upcoming candidate for City Council in Los Angeles brought volunteers to his regular meetup on the beach. Simultaneous to running his Congressional Campaign Baron Bruno held events at Rock and Brews in El Segundo a trendy craft beer joint owned by Gene Simmons of 70s music fame.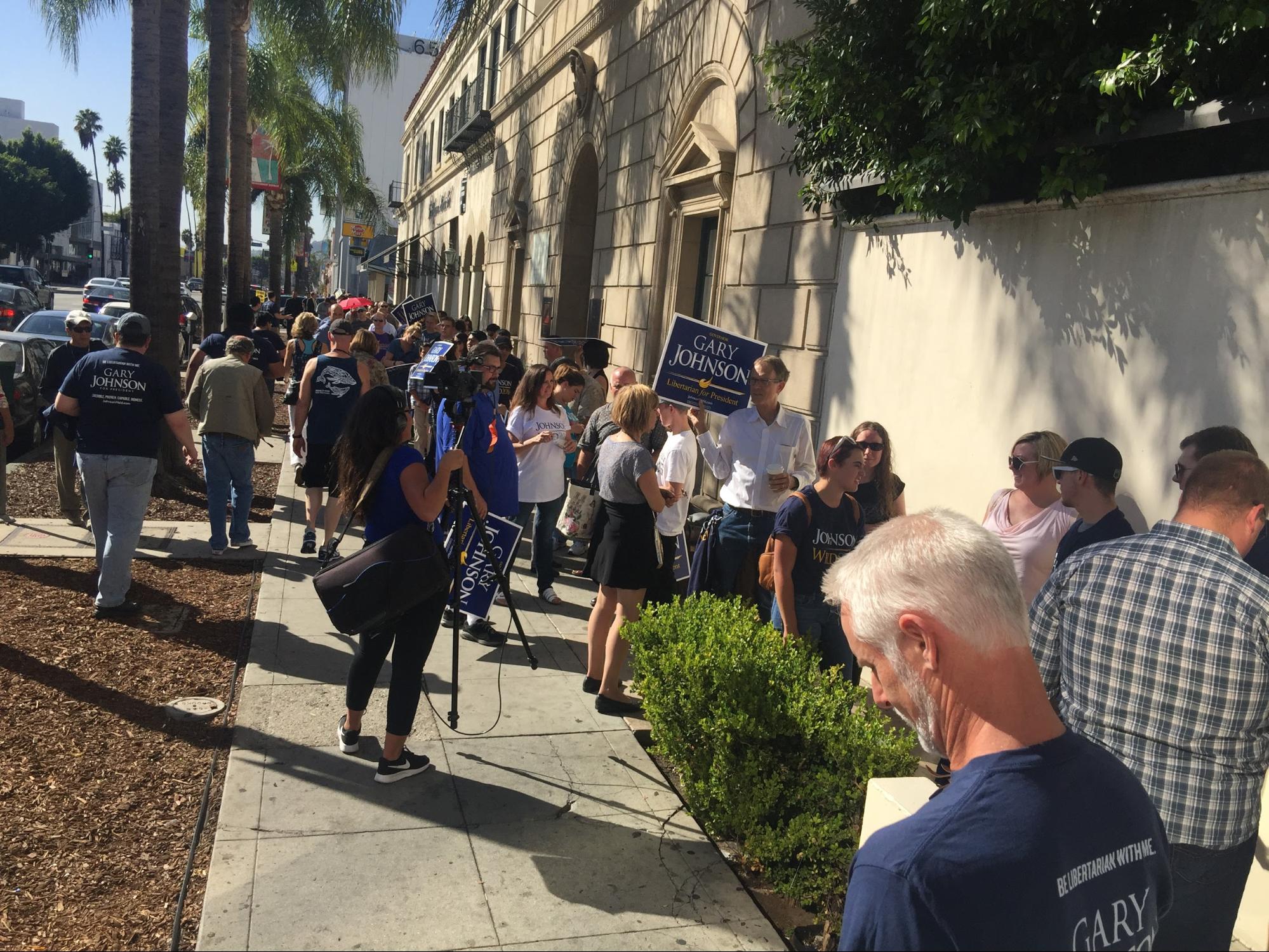 In the  North a vibrant volunteer network had grown around Robert and Jennifer Imhoff's hard work and outreach. He went as far as to invite the local county organization to use his home for their meetings, and got volunteers mixing in. The outreach efforts and organizations he spawned and helped support, were bringing big results. The volunteer force led by Ken Gillespie in the Sacramento suburb of Roseville, recruited someone who had some empty storefront space available for a couple of months between tenants. They opened a volunteer office putting up a giant banner that sat directly in front of busy I-80 freeway offramp promoting Libertarian Gary Johnson for President.
"We would get better than 60 people at each of the three orientations we held," Imhoff said. "We put up tents in the yard and broke out the barbecue and beverages. It was really great to host the old guard Libertarians and see them mix with the new volunteers. They have a lot to offer to this new generation of Libertarians. They have been fighting for a long time and their wisdom and experience is very valuable to the massive number of young people who joined us. Hopefully they will keep coming to meetings and doing activism with us. The campaign itself was short on resources in those early days so it was great to get people out so that they could see just how serious of a campaign was being run".
Wait for Nothing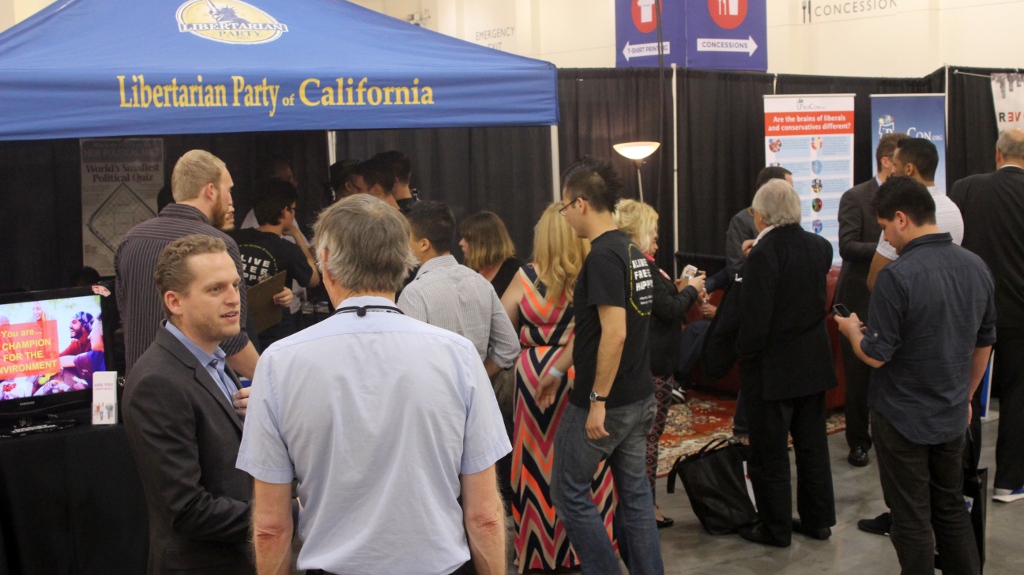 "We had a problem we had to address," Boomer admitted. "The phone banking infrastructure that the campaign was going to use for voter outreach was not yet set up when our orientations began. We did not yet have signs or literature to hand out. We actually did not have a lot to orient people on in specifics because the campaign was still gathering resources and strategic direction for the field efforts; but that didn't slow us down. The most important part of the orientation was getting people together. We wanted our volunteers to have a solid connection to the campaign and to the party. So we moved forward with confidence and did what we know how to do best. We made a lot of friends."
"Politics is about people, and those first orientations, while the events were light on what you might call instructions or actual orienting, they did provide a lot of value. Until we did those orientations, the volunteers were only connected via the internet and some phone calls. We wanted to get them excited and connected in strong ways. Email and phone only get you so much faith or attention from a person. You get a lot more when that person has meets you, they feel like they are a part of something big, and you then ask for their help in a specific way."
"Our routine at these orientations was to welcome the volunteers, pump them up a little bit with good old-fashioned cheer leading," which Boomer admitted was easy, "and then we would go around the room and to allow people to introduce themselves and tell us how they became interested in Gary Johnson and the Libertarian Party. Like magic, people became invested in each other, as well as the campaign and in the party itself!"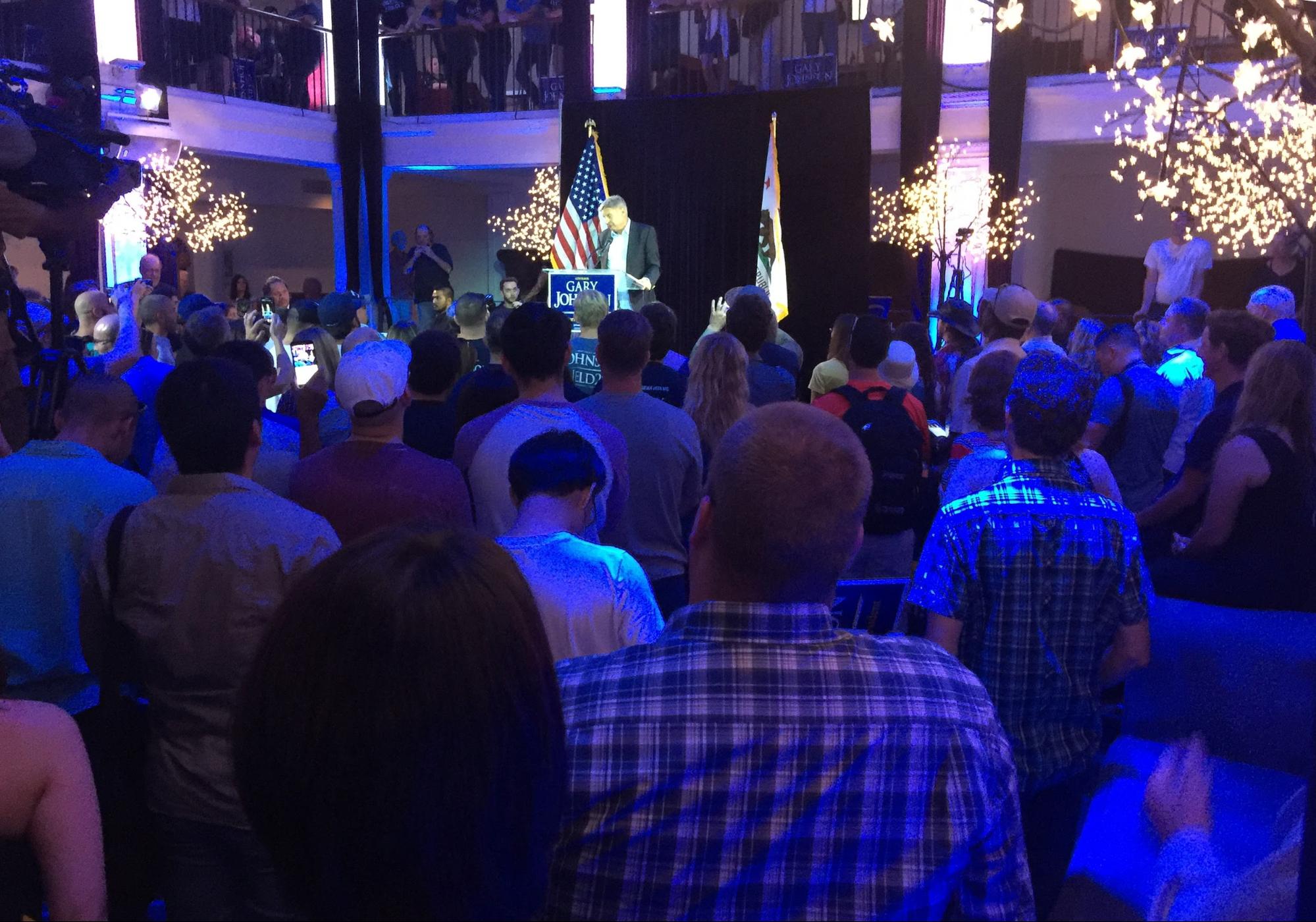 In Northern California Robert Imhoff was running a similarly open and organic strategy for activating volunteers also. "Robert's hard work in Northern California made concentrating a lot of my time in the south both easy and productive," Boomer said. "He and Jennifer are a powerhouse team. With them handling things up north so adroitly, I was able to concentrate a lot on the people working closer to me. I was able to be a bigger part of well… the field effort itself. I really love working in the field the most: Getting a bunch of activists together and causing trouble for the establishment is one of me special joys in life. The interaction with the national campaign began to be the hardest part of the effort for me. The phone calls were laborious and not very productive as other states were dealing with problems that California's density and strong existing activist organizations obviated."
Activists that Play Together, Stay Together
The general strategy and the tactic of inviting people out to orientations paid off in the end. When, in the final weeks of the campaign, many other volunteer groups were battling volunteer burn out, the California effort was still going strong and calling people in strategic states like South Dakota all the way up to the last minute. It is hard to quantify the actual effect on the votes that the volunteer phone bank efforts had but the correlation to popular vote and the phone banking campaign was very strong. It became a specific point of pride for California's volunteers.
Boomer's voice tremello'd when he described the phone banking efforts in California, "Our volunteers were dedicated all the way through to the finish line. We literally had people sitting at folding tables under Easy-Ups in back yards calling in that last week. A lot of volunteers called from home, but phone banking parties were pretty popular. People liked working together."
The California volunteer effort was also on the ground a great deal. They tabled at community events and  recruited deeply at colleges. They also held flash-mob style sign wavings and managed the fieldwork for wildly successful rallies in Hollywood and Sacramento where Gary Johnson addressed throngs of supporters. Organizers attributed the number and participation in those events directly to having gathered people together in-person.
Boomer felt the difference was dramatic and demonstrable. "About 90% of the phone calls made in the phone bank were by people who had signed in at one of our orientations or trainings. Our volunteers felt empowered… they were explicitly authorized and encouraged to organize their own events, and they came through for the campaign."
"Look at this," he said holding up a hefty stack of dog eared volunteer sign-in forms. "We literally had many hundreds of people come to one or more of our events as a volunteer. Having office space to use was a real boon to us down here as it was up North."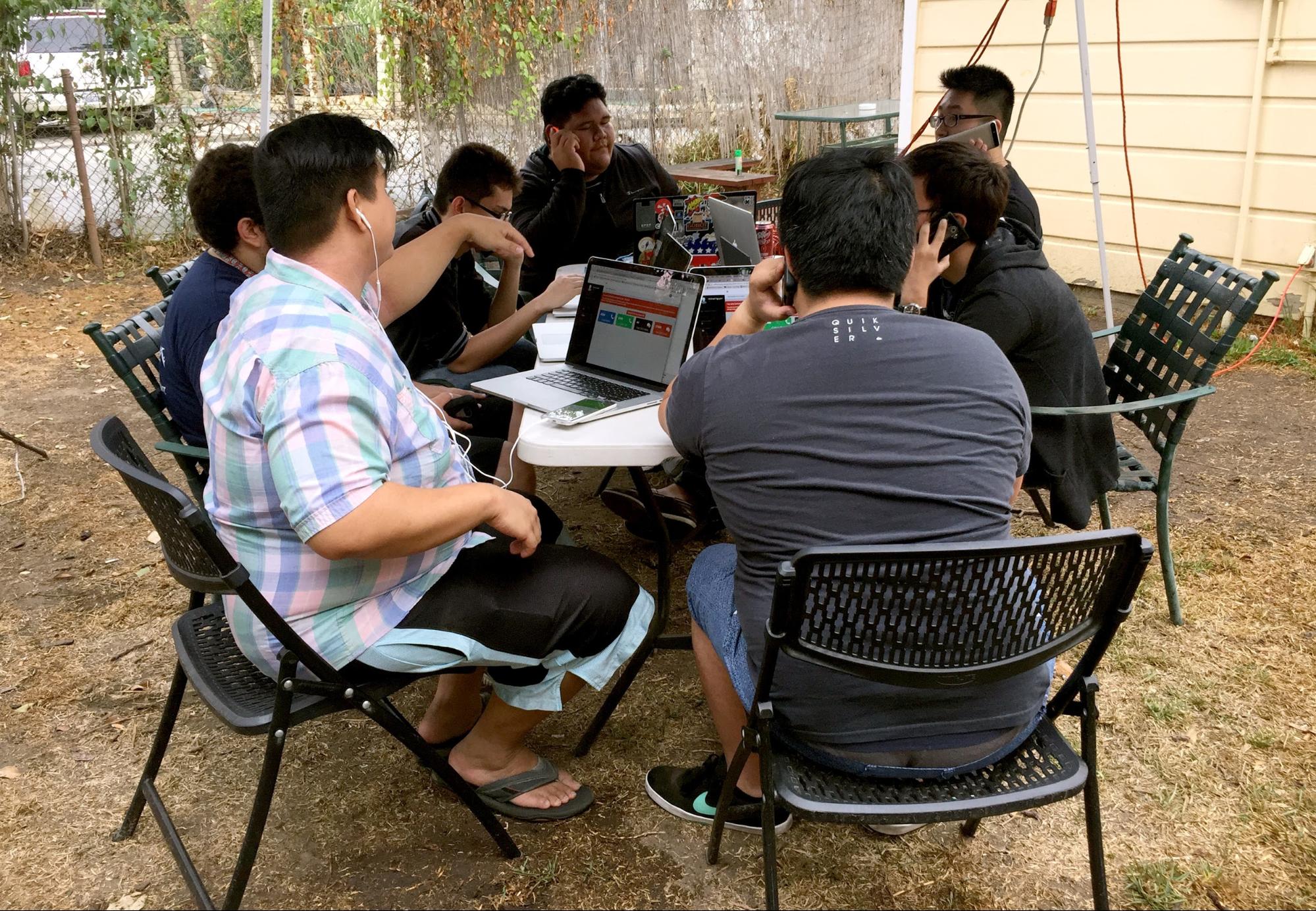 Boomer asserted strongly that volunteers having a place to go and to gather was key to their success. He claimed that getting people together energized the volunteers and motivated them to start making phone calls and then friendly competition drove their productivity upwards as well. "You just can't beat the strength of a relationship made in person or the awesome feeling of working with a bunch of people who are looking to accomplish the same wins as you in society. We were really fortunate to have had Gary Johnson's campaign. Their foresight in having an online platform for supporter outreach early on was a game changer for the field. It allowed us to reach out and then to immediately also empower those we contacted to begin doing the same. It was that level of organic, unconstrained and viral empowerment that gave us the biggest wins of any party this election cycle."
A Bright Friendly Future
Boomer's outlook speaks to directly what he hopes to see happen next for the Libertarian Party. "It isn't just the record level of votes our party got. It is not just the massive amount of resources we are going to save from winning ballot access; nor is it just the media attention we got making the Libertarian Party a household brand. What is likely to be the biggest win for us, short term and long term, is this army of activists we just mobilized."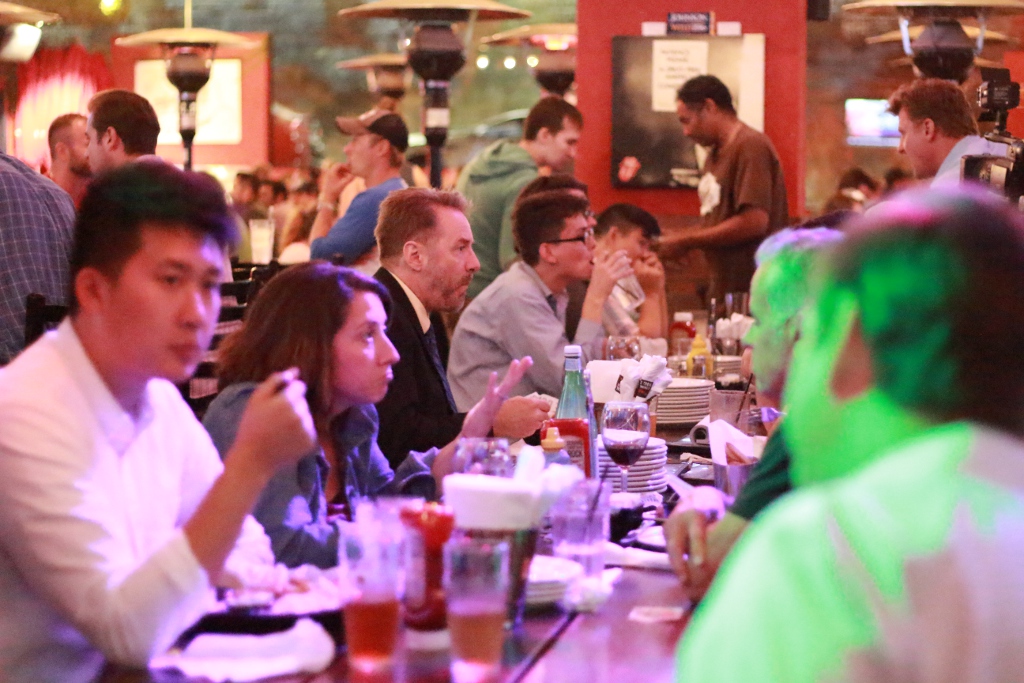 Boomer and Robert both expressed that their next step is to continue to reach out to the the new volunteers that they met and encourage them to become members of the party and continue their participation in activism.
"I am looking forward to getting to see the great people I worked with on the Gary Johnson campaign again," Robert said about moving forward. "We really wanted them to see that there was more beyond the campaign to be a part of and I think we were successful at that."
"We feel like we have made a whole lot of great friends," Boomer said, "and I hope that we are going to continue to see them at our meetings. After all, they now know where and when we meet and they have friends to see there. Failing that, we do still have their phone number and who doesn't like getting a phone call from a friend saying they are missed?"